Pithouses – semi-subterranean structures framed with a wooden roof covered in hides and/or brush – represent the most enduring type of fixed architecture in North America. These earth lodges, called kiguli or ke'kuli in Chinook trading jargon, were used as winter dwellings by salmon-trading people living in the interior British Columbia plateau. The question of who used the dwellings near Banff is of considerable interest. E. Gwyn Langemann, through study, suggests they are evidence of travellers from the Ktunaxa or Secwépemc (Shuswap) First Nations moving "through the mountain valleys on their way to a spring, summer, or fall buffalo hunts in the eastern slopes of the Rocky Mountains and foothills."
In 1913, Canada's first Dominion Archaeologist, Harlan Smith, worked to protect a cluster of fourteen pit dwellings, a winter village just downstream from the confluence of the Spray and Bow Rivers. Despite his best efforts, the "cultural depressions" Harlan identified were covered in 1928 by the growth of the Banff Springs Golf Course.
There are other former kiguli sites in Banff National Park. There is one at the base of Sacred Buffalo Guardian (aka Tunnel) Mountain on Deer Street. Another is adjacent to the Juniper Hotel. The third is near Skoki Lodge, at the headwaters of the Red Deer River. The Red Deer River Valley is a known travel route, at one time commonly used to access the different food sources available on either side of the Rockies.
Bowstrings Foundation is actively engaged in a multi-year program of research into Banff National Park's first permanently-built structures: fittingly, travel accommodation. We invite you to contribute as an environmental historian, archaeologist, donor, or kiguli story-holder. Contact us at [javascript protected email address] to get involved in this interesting project.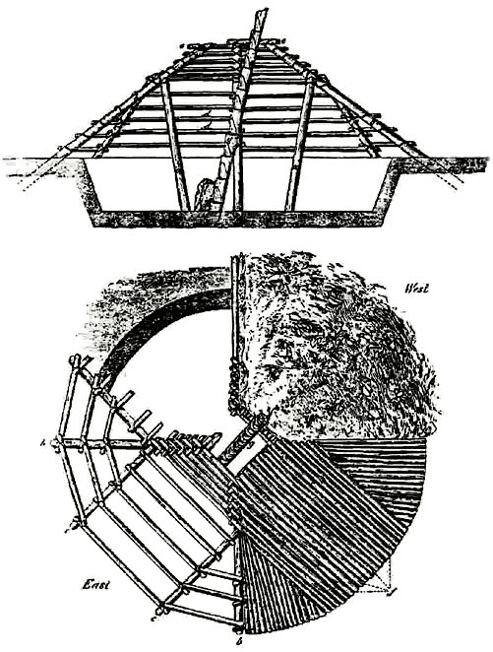 Illustration Credit
Aerial and cross section views of a pit dwelling, illustrative of those found in Banff. Artist unknown.